Stuart was born in Crewe in 1987 and lives in Frankfurt, Germany. He studied BA Painting at Camberwell college of Art. He is represented by Carlos/Ishikawa London.
His practice includes works on paper, installations, video, animation and sculpture. There is a homemade/DIY feel to the work, particularly the sculpture series of 'Sad Sketches 2' which will appear in the forthcoming exhibition 'Iconoclasts: Art out the mainstream' at the Saatchi Gallery. The work is fabricated from Paper mâché cardboard, watercolour, coloured pencil, polymer clay, aluminium foil and laminated chipboard.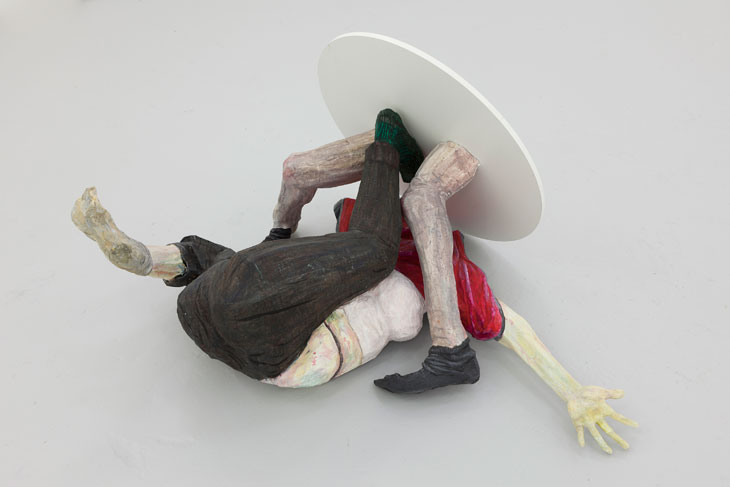 These pieces are contorted and twisted, like a perverse table with actual human legs, struggling to find their feet after a fall. A jumble of legs, one with a sock missing, set against the white flat surface of the 'table top'.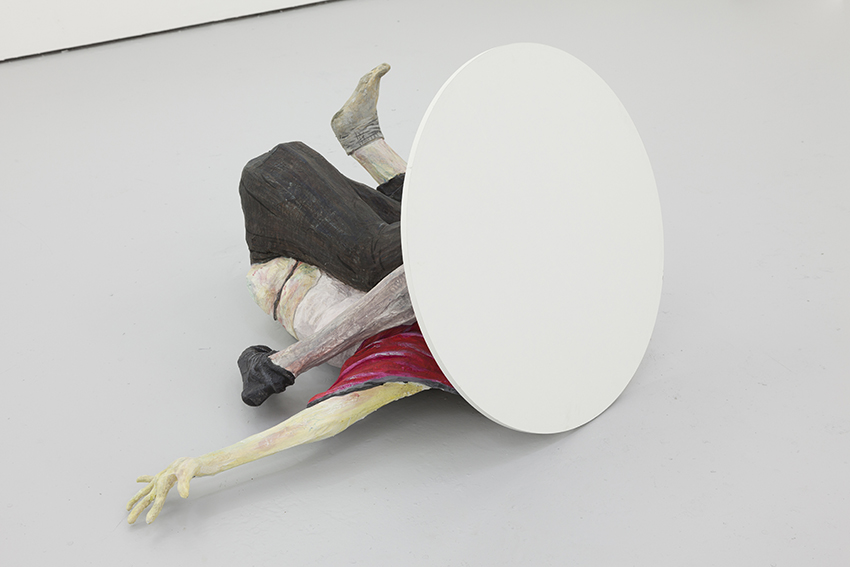 His recent exhibition 'the gonks' at Carlos/Ishikawa features a large white tent, fitting snuggly within the practical restraints of the building, placed within the exhibition is an old disused shower unit and in the solid basin is a selection of exquisitely detailed hand-crafted miniature items of furniture.
It is this oddity and eccentricity that make Stuart's work very British. The text to the exhibition is a slightly absurd e-mail exchange between a bureaucratic employer and employee regarding a private sexual encounter. This is strange and somewhat silly in parts. The tent will its corridors is perhaps a comment on the artworld – The Frieze art fair, the big top with all the 'goods' on offer, but here the tent is empty and we are left with the sense of absence.
Middleton's work is playful yet with depth and seriousness. Beneath the surface and you will find his work relates to the darker even more tragic aspects of the human condition. He is a multi-media artist and a fine draughtsman and this can be seen in his animation videos, which also uses stop-motion clay modeling.
Middleton has recently featured in a group show 'Unruly Relations' at the Kunsthaus Glarus, Switzerland. Other solo exhibitions include 'Sad Sketches' Piper Keys and was in a group show entitled 'Edgelands' at the Camden Arts Centre.
Middleton is an artist with many strings to his bow, he is also a writer and recently performed a reading of short fiction as part of the culture now series at the ICA.
To my mind it is his 'Sad Sketches', which retain all the key elements of his practice, surreal and disconcerting, funny and laden with pathos.
No doubt the Saatchi Gallery exhibition will bring a greater public awareness to this multi-talented artist.
Categories
Tags