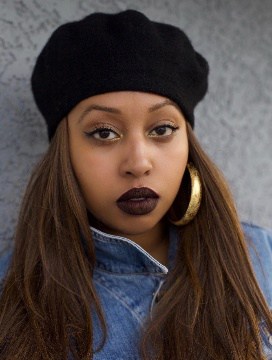 With her first full-length poetry collection, Warsan Shire introduces us to a girl who, in the absence of a nurturing guide, makes her own stumbling way towards womanhood.
Bless the Daughter Raised by a Voice in Her Head is an ode to the child who raised themselves and grew up to value empathy and kindness. Those who have felt ugly, hopeless, who have felt unblessed. For people who carry shame— may they feel less alone, may they find comfort in similarities, may they feel understood, may they carry less shame. Blessings for those forgotten in prayers, forgotten in history.

Warsan Shire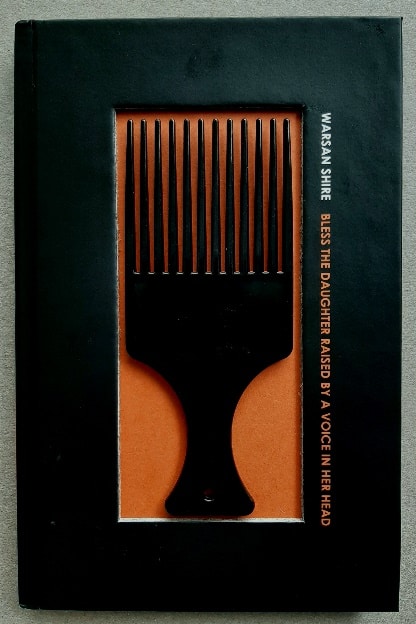 Drawing from her life and the lives of loved ones, as well as pop culture, news headlines and banter, Warsan untwines vivid, transformative details from the experiences of refugees and immigrants, mothers and daughters, Black women and teenage girls. These are noisy lives, full of music and weeping and surahs. These are fragrant lives, full of blood and perfume and jasmine. These are polychrome lives, full of moonlight and turmeric and kohl.
Bless the Daughter Raised by a Voice in Her Head is a blessing, an incantatory celebration of survival, from one of our most exciting contemporary poets. Limited to 200 lovingly hand-numbered copies, flipped eye publishing's special edition features a detachable Afro comb on the front cover and is printed on uncoated paper from renewable sources. The book is conceived as a celebratory, collectible item, marking a milestone in the literary career of Warsan Shire and the independent publisher that first discovered her.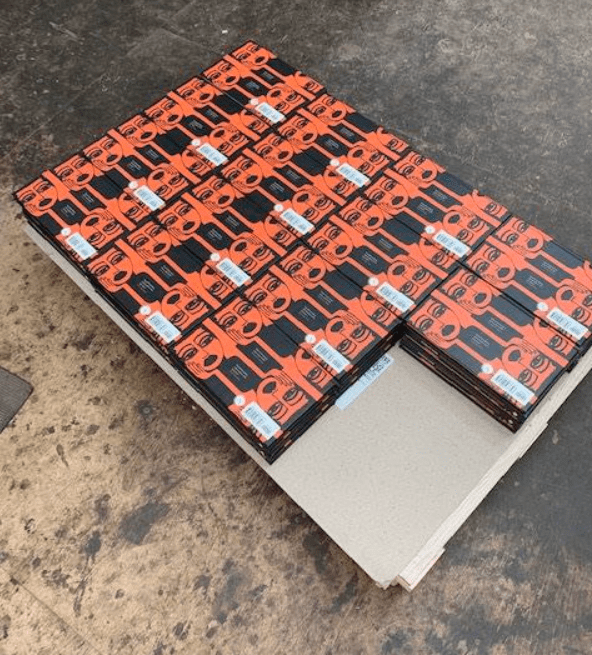 "I was smitten with the first clutch of Warsan Shire's poems my colleague Jacob Sam-La Rose shared with me in 2008. I knew at once that I was reading a poet who was both of her time and ahead of her time – and we were determined to do everything we could to make sure the world would experience the fullness of her unique voice and vision. Ours is a love affair of over a decade, and Bless the Daughter Raised by a Voice in Her Head marks the further blossoming of a talent that has yet to reach its zenith. How blessed are we to be part of that journey?! We are so pleased to be able to work with PRH to give Warsan's extraordinary new work the platform it deserves."

Nii Ayikwei Parkes, founder and editor at flipped eye
The limited-edition has been released to pay quiet homage to the 23rd anniversary of Lauryn Hill's seismic Grammy win for The Miseducation of Lauryn Hill. Bless the Daughter Raised by a Voice in Her Head will then published as hardback edition, ebook and audiobook on 3rd March 2022 by Chatto & Windus, in collaboration with flipped eye.
About the artist
Warsan Shire is a writer, poet, editor and teacher. Her debut pamphlet, Teaching My Mother How to Give Birth, was published in 2011 by flipped eye. She won the Inaugural Brunel University African Poetry Prize in 2013 and in 2014 she was appointed as the first Young Poet Laureate for London. She was also selected as Poet in Residence for Queensland, Australia where she collaborated with the Aboriginal Centre for Performing Arts. In 2015 Warsan was a judge for the Forward Prize for Poetry and released a limited-edition pamphlet Her Blue Body.  In 2016 she collaborated with Beyoncé Knowles Carter on the film adaptation and poetry for the Emmy and Grammy nominated visual album Lemonade. In 2017 she was included as part of the Penguin Modern Poets series alongside Sharon Olds and Malika Booker. Warsan lives in Los Angeles and Bless the Daughter Raised by a Voice in Her Head is her first full collection.
About flipped eye
Founded in 2001 by Nii Ayikwei Parkes, an editor and award-winning writer, flipped eye publishing has won global critical acclaim, playing a key role in developing poets such as Inua Ellams, Malika Booker, Miriam Nash, Nick Makoha and Warsan Shire. flipped eye publishes powerful new voices in affordable volumes. Recognised globally as an incubator for exciting talent, it is the original home of leading contemporary writers such as Roger Robinson and Nikesh Shukla. flipped eye's focus on cultivating potential and giving a platform to stories that represent a truly global scope of lived experience and literary traditions, literally "flips" the traditional mainstream, giving prominence to writers from all sectors of society and publishing the widest possible range of voices. Working with a not-for-profit model since its inception, flipped eye is a lean, reader-focussed, writer-loving support system for culture that matters. flippedeye.net
Categories
Tags